This assignment was a challenge to build some sort of level out of a tileset then light it and pretty it up with a few effects and maybe some Shadergraph shaders.
At this time we already had a team built for the final project so we split into different groups and each made a mayanesque tileset for a specific part of the final project. In our case we took charge of the water themed part.
To contrast the water and to learn more about shaders we built a symmetrical mayan temple that was one part lava and one part water.
The theme of twins ended up in the final project too.
This leveldesign project was made in cooperation with Anna Singer.
---
The entrance of the temple.
---
A bit to show off the tileset. The lava and water shaders were also something we were quite proud of at the time.
---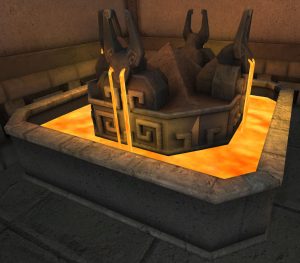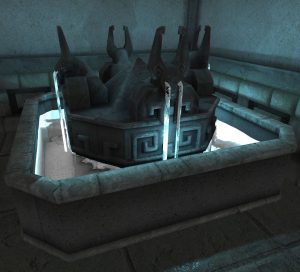 The bigger fountains we had in the map…
…and the smaller wall mounted ones.
---
Some lava and waterfalls into an endless abyss near the end of the map. Which also shows the symmetry of the temple. The statues of the twins are at the other side of this hall.